06-12-2016, 09:43 AM (This post was last modified: 06-12-2016, 09:52 AM by Valvebloke.)
I'm currently working on an early Quad II power amp (serial number in the 4000's which puts it in the first couple of years of production - so 1954/5). It has sat, unloved, for decades in an unheated garage and it arrived here dirty and corroded. The KT66s are the original grey-glass M-OV ones (Marconi branded, as it happens) and as is often the case after long disuse they were both gassy. Running them hard ('cooking') for several hours reduced the gas level and got the grid currents down to a microamp or so at the normal operating point. This was still high enough that I wanted to keep an eye on the grid voltages though, as the KT66 grid leak resistors in the Quad II are rather high-value - 680kohm.
When I first switched the amp on all was well - the valves were cold and their grids were just a few hundred millivolts above ground. As things warmed up the voltages started to rise. One headed slowly up to a volt or so and then stabilised there. That was OK (or at least OK-ish). The other one, however, rose more quickly and didn't stop until it was at nearly 4V. Even then the voltage was wandering about in a worrying fashion. This didn't add up. To generate 4V across 680k would require 6 microamps or so and that was way more than I'd measured on my valve cooking-and-testing rig.
I scratched my head and changed this and that for quite a while, but to cut a long story short it seems that as well as the current from the KT66 grid there is also significant current flowing through the 680kohm resistor via the 'insulating' tagboard on which it's mounted ! The picture shows the arrangement (this is not the amp I'm currently working on, but the tag layout is the same)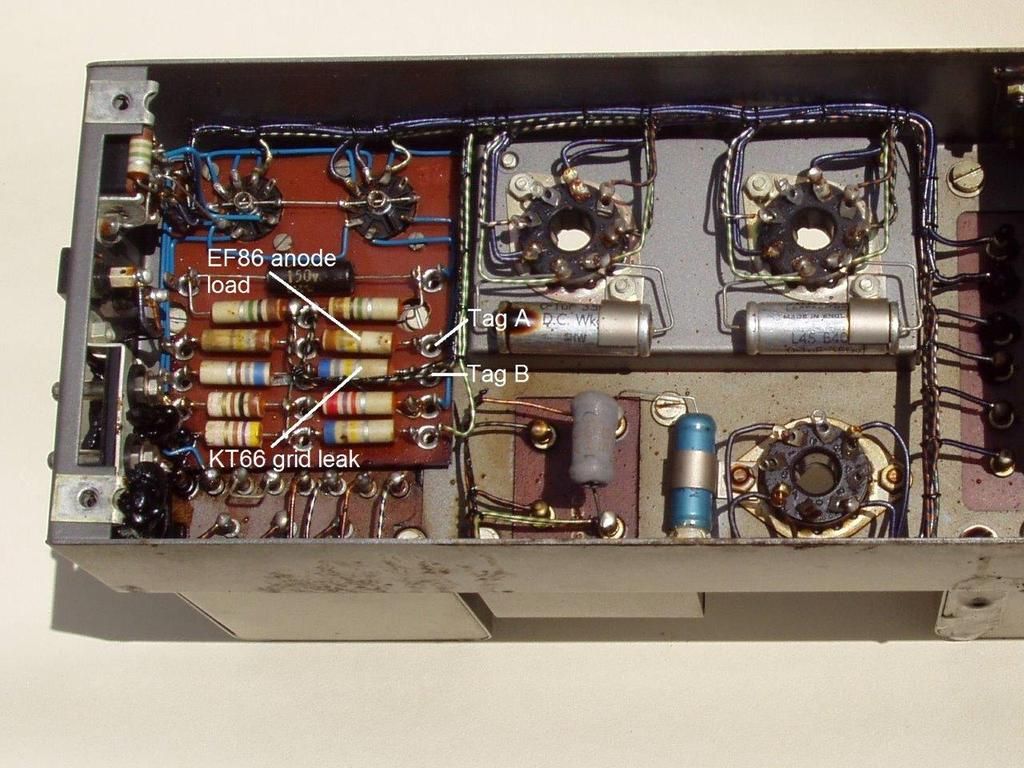 The left hand end of the 680k grid leak is essentially grounded. The right hand end (Tag B) is wired to the KT66 grid. If I disconnect the resistor and wire from Tag B and just join them floating in space then all is well - this point then sits about 1V above ground exactly as the other KT66 grid does. If I take a DMM (nominal 10megohm input) and measure the voltage on the now unconnected Tag B I find it starts out at a couple of volts but then rises as the board warms up, eventually reaching 20V or so ! I thought the current might be leaking from the nearby Tag A which goes to the EF86 anode and is therefore at about 100V. So I disconnected this tag too, again floating its wires temporarily in space. Now Tag B dropped to about 7V but Tag A measured about 7V too !  If I connected Tag A to the 360V HT rail at the left hand end of the anode load resistor then I measured more than 45V on Tag B.
I cleaned the top surface of the board very thoroughly, and the bottom as well as I could without disconnecting and removing it. This made almost no difference. I'm starting to suspect the tagboard has somehow become conductive in bulk. I should say there are no very obvious marks. Quad II tagboards inevitably become covered in the oily wax which leaks out of the Erie ceramic-bodied resistors over the years. And this wax does pick up a lot of dirt, some of which might be quasi-conductive I suppose. But I confess I've never seen conductivity problems like this before. Has anyone else seen such a thing, or is it possible I've just got a bit of board with some sort of manufacturing defect/weakness ?
For now the amp is working with Tags A and B disconnected and the wires floating. They only ways I can think of improving matters might be a) to replace the existing tags with ones which include little ceramic pillars, b) to cut slits either side of Tag B to lengthen and narrow the conducting path to it or c) simply to leave things as they now are (I'm not very keen on floating joints though). Can anyone think of anything easier and/or potentially more effective ?
VB